News & Insights
Take a Tour of Our New Website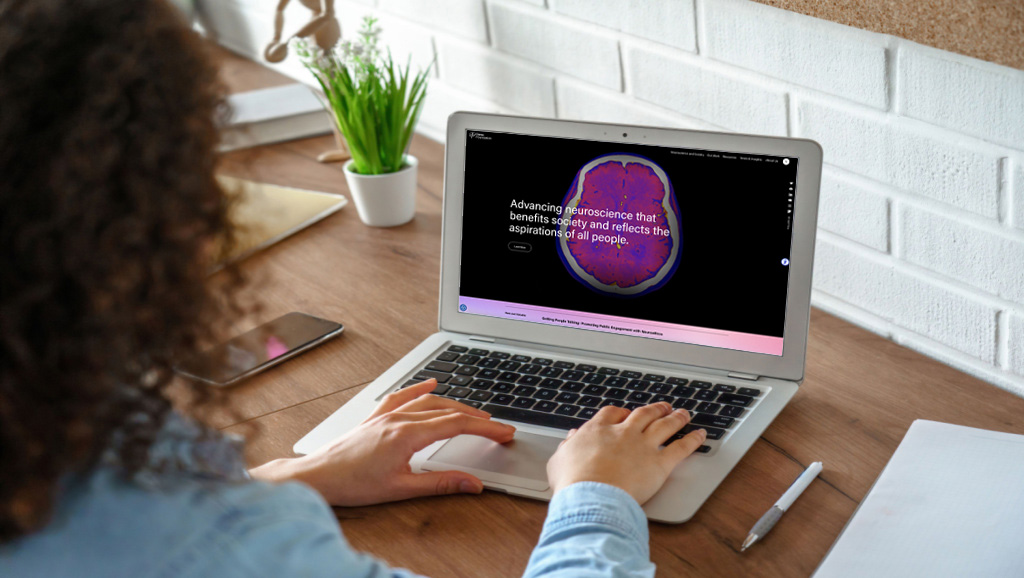 To support our mission and Neuroscience & Society grants focus, we are thrilled to welcome you to the Dana Foundation's new website. We have a new look and feel, including a new logo (!), as well as a streamlined user experience that places more emphasis on our grants. We hope that after visiting, you will have a strong sense of our mission, the values that guide our work, our grant programs and strategy, and the emerging neuroscience and society field.
We invite you to explore the site on your own, but please allow us to give you a quick tour of the main sections:
President's Perspective
Hear directly from our leader, Caroline Montojo, Ph.D., on topics important to the Foundation's work. In her inaugural post, she guides you through the thought behind our mission and the concept behind our new logo. If you want to understand the Dana Foundation's new focus and how we plan to strengthen the positive role that neuroscience plays in the world, this is a must read.
Our Work
Learn about the goals and objectives of our three grant programs (Dana Frontiers, Dana NextGen, and Dana Education) and our approach to funding. In this section, you'll also find our Grants Database with Neuroscience & Society grants, past and present, to give you a sense of the projects we fund.
Neuroscience and Society
Find a high-level review of the neuroscience and society field. We plan to add additional content over time to give newcomers added clarity on this field and how it might relate to them. For real-world examples of neuroscience and society projects, be sure to read our Impact Stories, which highlight the work of our talented grantees and how—even in this early stage of the field—they are connecting neuroscience to the needs of society through intersections with other fields such as ethics, law, and education.
Resources
Searchable by audience, format, and intended use, this library houses our own resources and those created by our grantees. Find content to aid education, public engagement, professional development, and background research on neuroscience and society.
News & Insights
Check here for neuroscience and society events, grant opportunities, and news written by our staff, science writers, and guest writers.
About Us
Find our mission, vision, and values, and meet our dedicated team.
Thank you for visiting our site! To keep in touch, please subscribe to our monthly newsletter and follow us on social media.