Brain Awareness Week
Exciting Activities for Kids
Event Ideas
Brain Awareness Week is a great time to get kids excited about brain science! Here are just a few activity suggestions for younger audiences.
General Ideas:
Set up and staff an exhibit table at your school, community center, library, or shopping mall with the Dana Foundation's free handouts. Print and share our fact sheets and puzzles.
Ask your school or local library to organize a Brain Awareness Week display with books and reference material about the brain or offer to set up your own display.
Organize a brain fair with hands-on activities, games, and experiments. Invite local colleges/universities and disease advocacy groups to participate.
Organize a brain art, essay, poetry, music, or drama competition on a brain-related theme for local schoolchildren.
Organize a film festival featuring movies about the brain. Some popular films include "Finding Dory," "Inside Out," and "Awakenings." Follow each film with a discussion.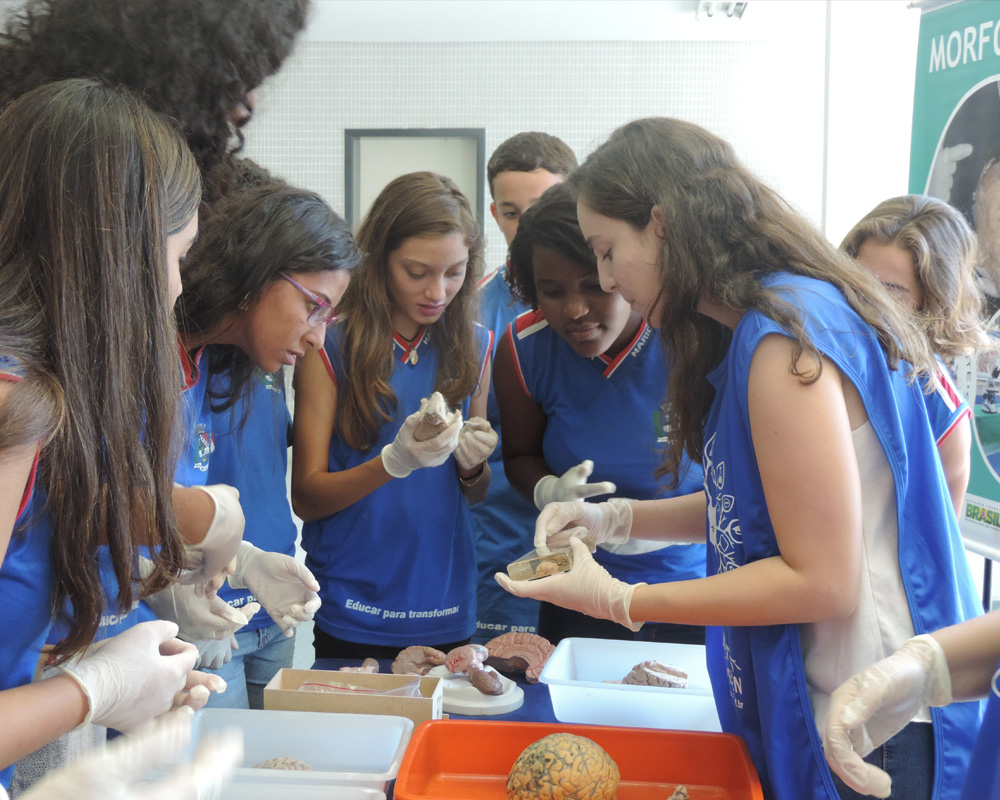 Ideas for Teachers:
Present one of the Dana Foundation's lesson plans. Topics include neuroanatomy, brain injury/prevention, memory, optical illusions, and depression. Each lesson includes an engaging classroom activity!
Use one of the Dana Foundation's puzzle packets as a classroom activity. The puzzles are free and available for download.
Incorporate daily brain facts or brain fitness tips in your school announcements during BAW. Use the Dana Foundation's fact sheets and Glossary as a resource.
Assign students a project about the brain, such as creating poster presentations, bulletin board displays, or videos. Have students present their projects to their classmates or to younger students in your school.
Watch an episode of the University of Washington's BrainWorks video series with students and teachers, and use the viewer guides for a class discussion.
Use the Society for Neuroscience's Find a Neuroscientist search engine to locate a scientist in your area to speak to your class or school about the brain.
Ideas for Scientists:
Visit local schools to present lectures, hands-on activities, demonstrations, and experiments about the brain to students.
Contact after-school programs in your community (Boys & Girls Clubs, Girl/Boy Scouts, etc.) and volunteer to give a presentation about the brain to participating children.
Hold lab tours for local students to excite them about the research being done in their community and inspire them to pursue careers in neuroscience.
Contact local schools to determine if there will be any science fairs during March. Volunteer your institution as a resource for students wishing to do science fair projects on the brain.
Create traveling displays or interactive exhibits on the brain and present them at local schools, community centers, libraries, shopping malls, and other public spaces.
Get involved in the International Brain Bee, a live Q&A competition that tests the neuroscience knowledge of high school students. For more information, visit the official International Brain Bee website.
Partner with a science museum to present exhibits, demonstrations, hands-on activities, and experiments about brain structure, function, and diseases and disorders. Science museums often have extensive contacts at local schools and can help draw this audience to your events.