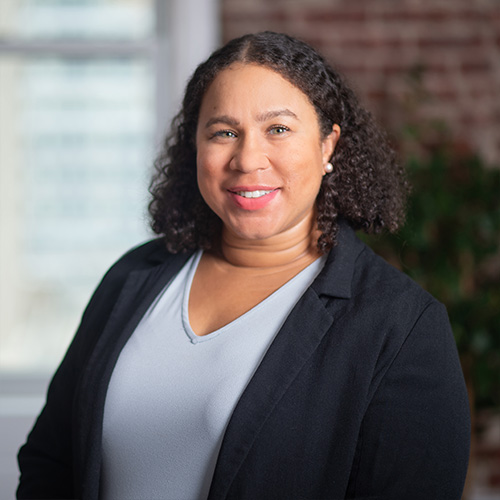 Farron McIntee, Ph.D.
Dana Fellow in Neuroscience & Society, NextGen Program
As a Dana Fellow in Neuroscience & Society, Farron McIntee, Ph.D., works closely with the NextGen program team. Farron is a translational neuroscience research scientist and higher education diversity, equity, and inclusion leader and educator. Prior to joining the Foundation, she served as the director of the Research Enrichment Core of the NIH-funded ReBUILDetroit Scholars Program at Wayne State University. In that role, she developed, implemented, and refined programmatic and institutional innovations that recruited and retained students into STEMM (Science, Technology, Engineering, Mathematics, and Medicine) and conducted program-related research. While at Wayne State, Farron also focused on promoting excellence and enhancing mentoring relationships at all career stages. She has received training from the National Research Mentoring Network, Center for the Improvement of Mentored Experiences in Research, and Scientific Communication Advances Research Excellence. Farron completed her postdoctoral research in the division of geriatrics and nutritional sciences at Washington University School of Medicine in St. Louis. Her research focused on brain fatty acid metabolism and its role in behavior. She received her Bachelor's degree from Spelman College. Farron completed her Master of Science and Ph.D. at the Vilcek Institute of Graduate Biomedical Sciences at New York University.